In my researching of the Portland Irish over the last fourteen years, a great many people have helped me along the way. While compiling this Heritage Trail, many of these same people aided me. I can only mention a few here, but many others will be properly acknowledged in my history when it is finished hopefully sometime early next year. My mother, Mary E. Gillan, of course, has been there for me for all my endeavors since day one. It was she who said to be proud of my heritage, my Irish heritage, from the time I can remember. Little did she realize how far I would carry that pride! I began tracing my own family history at age eight and at eleven I joined the Maine Historical Society. My father, Lawrence A. Barker, took the photos for many of the sites on this trail and I thank him once again. My grandparents, the late Thomas F. and Frances Newell Gillan, were a wealth of information on their ancestors and related many stories of what it was like growing up Irish and Catholic in Portland. My grandparents Earle F. and Rose E. Cobb Barker have always been there for me and we had many enjoyable genealogy trips throughout Maine.

I owe a great debt of gratitude to my friend William David Barry, a talented Portland writer and historian. We have had countless talks on Maine history, and have been exchanging information since 1995. Many other friends in the history and genealogy business have been most helpful over the years, including Michael C. Connolly, the late Walter F. Feeney, Michael Furey, Maryellen Furey Pallozzi, Gary Libby, Brian and Anne Hoye, Betsy Sheehan, Herbert Adams, David J. Soule, Ed and Fidelma McCarron, Debbie Verrier Barry, William B. Jordan Jr., Kathy Bolduc Amoroso, James Avjian, Wil Gardner, Richard B. Clonan, Tom Gaffney, Peter Gribbin, Paul O'Neil, Patricia Finn, Eileen Eagan, Susan Norton, John O'Dea, the late James Minvielle, Vinny O'Malley, and last, but not least, Patrick J. Bell.

This Heritage Trail could never have been completed without the rich resources of the Maine Historical Society, along with their always helpful staff, including Bill Barry, Nicholas Noyes, Don King, Stephanie Philbrick, and Jamie Kingman Rice.

The resources of the Portland Public Library are likewise of immense value, especially their collection of old Portland newspapers on microfilm. Kathy Barry and Anne Ridge, both recently retired, have always been of invaluable help.

I have often consulted the records of Calvary Cemetery in South Portland. Dickie Nee, the superintendent, and Debbie Moore, the office manager, are always there to help researchers.

Fathers Donald McAllister and Francis Morin, late of St. Dominic's Parish, were most generous in allowing me access to the parish registers of that church.

Other libraries and sources have included the Diocesan Archives at the Chancery (Portland), the New England Historic Genealogical Society, the Boston Public Library, Portland City Hall, the Archdiocesan Archives of Boston, the Cathedral of the Immaculate Conception, and the Cumberland County Registry of Probate and Deeds.

Of Course, I must commend all the wonderful work everyone at ACRO Global has accomplished over the last few years in bringing this Heritage Trail to light. These include Francine Rondina, Elizabeth O'Hara, and David Boggs.

Thanks to one and all!

Matthew Jude Barker
October 2009
---
Matt Barker Honored at Irish Echo's
5th Annual "40 under 40" Awards Night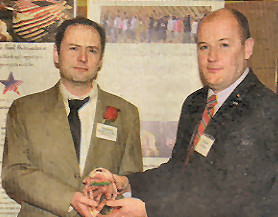 © 2012 Irish Echo

Matt Barker receives his award from
Irish Deputy Consul General Peter Ryan
Matt received this award on February 23, 2012
in New York City at a reception and dinner
sponsored by the Irish Echo newspaper.
---
About Matt Barker
Matt Barker has been a professional genealogical and historical researcher since 1981, listed by the Maine Historical Society and the Portland Public Library since 1989.

He edits and compiles The Downeast Shamrock, a monthly newsletter devoted to Irish heritage and genealogy in Maine, New England, the Northeast, and Canada, and is currently working on a major history of the Portland, Maine Irish.


Contact Matt today about your genealogical or historical research needs.